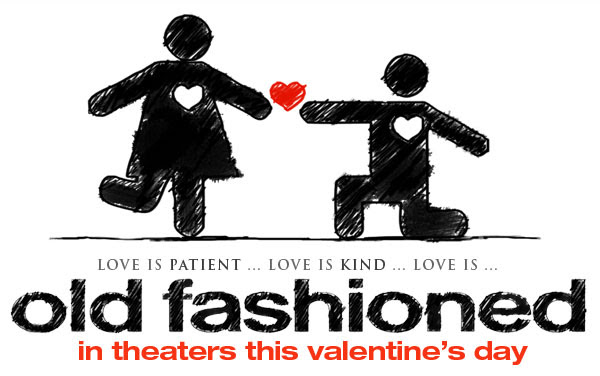 I'm so excited to be partnering up with the producers of a great new movie about love, marriage, courtship, and deep emotional healing. The movie Old Fashioned will be released on Valentine's Day, going up against 50 Shades of Grey, which unfortunately promises to be a behemoth at the box office. Old Fashioned features a slow-talking Southern fraternity boy trying to make up for his misspent college years and a girl who talks like a free spirit but is really lost and aching inside. Their courtship, although mocked by almost everyone around them, eventually makes them whole again.
Other partners
committed to spreading the word about this movie, which actually models a healthy relationship (imagine that!), include the U.S. Conference of Catholic Bishops For Your Marriage initiative, Theology of the Body Evangelization Team (TOBET), and CatholicMom.com.
The movie's endorsers
read like a Who's Who list of Catholic personalities, including Sr. Helena Burns, Fr. Mike Schmitz, Teresa Tomeo, Matt Fradd, Donna-Marie Cooper O'Boyle, Lisa Hendey, Sarah Reinhard, and Patrick Novecosky. Old Fashioned is also endorsed by the co-host of the 700 Club and folks from BethanyHamilton.com (remember Soul Surfer? my daughters sure do). It's thrilling to be one of their number.
If this movie is playing in your area, please, please go to see it opening week. And take your teen-age kids, if you have them. You won't regret it.

* * * * *
Old Fashioned Opens In Theaters Valentine's Day Weekend!
Question: When did God's plan for romance and marriage become … OLD FASHIONED? With Valentine's Day quickly approaching, plan now to celebrate with a movie that highlights a God-honoring relationship! OLD FASHIONED is a relevant, powerful story that presents a clear and entertaining vision of what love and respect can be right here, right now—and that is something our world desperately needs.
Find a theater and buy your tickets for Valentine's Day weekend, February 13-15. You (and your beloved) will be glad you did!

An Old Fashioned Story Everyone Will Love!
OLD FASHIONED is a faith-based love story about Clay, a reformed frat boy whose relationship with Christ impacts the way he looks at life and relationships; and Amber, a free-spirited woman who has felt the pain of dating relationships. Together, they attempt the impossible: an old-fashioned courtship in contemporary America!
OLD FASHIONED
inspires a genuine hunger for godly romance. Be sure to check out
OldFashionedMovie.com
to learn more about the movie and to locate a theater near you where the film will be playing. Talk about the perfect Valentine's weekend movie!


Please share this eblast with your friends and family in the 200 opening market locations. Let's sell out showtimes!
Copyright © 2015 Carmel Communications, All rights reserved.

Our mailing address is:
800 Old Roswell Lakes Parkway, Suite 220 | Roswell, GA 30076